The shrimp toasts are small sandwiches to fry that are delicious, sweet and crisp. And can also be served at breakfast.
Faire frire dans l'huile à 170° pendant 2 minutes. À conserver à une température inférieure à -18°C jusqu'à la date indiquée sur l'emballage.
Ne jamais recongeler un produit décongelé.
Crevettes (crustacé) (43%), pain de mie (farine de blé, eau, levure), poisson pangasius (15%), ciboulette, échalotte, ail, coriandre, huile de sésame, épices, sésame. Allergènes: crustacé, céréale contenant du gluten, poisson, graines de sésame.
ÉNERGIE 178 Kcal
MATIÈRES GRASSES 6,07 g
DONT ACIDES GRAS SATURÉS 0,79 g
GLUCIDES 16,86 g
DONT SUCRES 1,97 g
PROTÉINES 14,49 g
SEL 1,01g
Sesame shrimp toast 240gr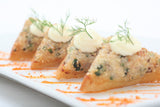 Avis à propos du produit
Voir l'attestation
Très bon produits super bon
Souvent consulté avec Sesame shrimp toast 240gr
Product title
Vendor
€19,99 EUR | €24,99 EUR
Product title
Vendor
€19,99 EUR | €24,99 EUR
Product title
Vendor
€19,99 EUR | €24,99 EUR
Product title
Vendor
€19,99 EUR | €24,99 EUR