The cornish rice with corn is a sweet and salty glutinous rice very appreciated by the Vietnamese that can be found on the streets of Vietnam. There is a mixture of glutinous rice, corn, often fried echotte, mung beans and sugar. Since it is both sweet and savory, we can consume it good at any time of the day.

Couvrir sur le produit une serviette humide et réchauffer au micro-ondes pendant 3 minutes, ou réchauffer à la vapeur pendant 7 minutes sans décongeler. À conserver à une température inférieure à -18°C jusqu'à la date indiquée sur l'emballage.
Ne jamais recongeler un produit décongelé.
Riz gluant 27,85%
Mais 47,24%
Haricot mungo
Sel
Sucre
Poudre de coco
ÉNERGIE 204 kcal
MATIÈRES GRASSES 7,2 g
DONT ACIDES GRAS SATURÉS 3,2 g
GLUCIDES 28 g
DONT SUCRES 4,7 g
PROTÉINES 5 g
SEL 0,44 g
Scaling rice at 200gr corn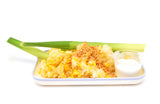 Avis à propos du produit
Voir l'attestation
Très bon, comme au Vietnam
Souvent consulté avec Scaling rice at 200gr corn
Product title
Vendor
€19,99 EUR | €24,99 EUR
Product title
Vendor
€19,99 EUR | €24,99 EUR
Product title
Vendor
€19,99 EUR | €24,99 EUR
Product title
Vendor
€19,99 EUR | €24,99 EUR