The gyoza ravioli with vegetables are vapor bites originating in Japan. They are consolidated from wheat pulp that after cooking forms a crescent moon, and garnished with cooked vegetables: yam, cabbage, black mushroom, carrot, chit, garlic, red pepper and soy sauce. This vegetarian recipe that can be accompanied by raw salmon.
Réchauffer à la vapeur pendant 7 à 10 minutes ou faire dorer à la poêle à feu douce.
À conserver à une température inférieure à -18°C jusqu'à la date indiquée sur l'emballage.
Ne jamais recongeler un produit décongelé.

pâte (farine de riz, farine de tapioca, huile de soja, sucre sel, eau), farce (haricot mungo, taro, patate blanche, pousse de bambou, poireau, chou blanc, carotte, huile de soja, sucre, sel, poivre). Allergène: Soja
ÉNERGIE 182 kcal
MATIÈRES GRASSES 6,82 g
DONT ACIDES GRAS SATURÉS 2,87 g
GLUCIDES 27 g
DONT SUCRES 2,3 g
PROTÉINES 1,81 g
SEL 0,97 g
Raviolis Gyoza with vegetables 10pcs / 250gr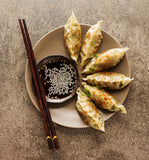 Avis à propos du produit
Voir l'attestation
Première commande, service commercial au top, livré le lendemain, pas de mauvaises surprises, nous recommandons et recommanderons régulièrement car produits de qualité. Merci..
Souvent consulté avec Raviolis Gyoza with vegetables 10pcs / 250gr
Product title
Vendor
€19,99 EUR | €24,99 EUR
Product title
Vendor
€19,99 EUR | €24,99 EUR
Product title
Vendor
€19,99 EUR | €24,99 EUR
Product title
Vendor
€19,99 EUR | €24,99 EUR