The shrimp ravioli are called "ha kao" in France. The "ha kao" are the most famous Sum Sum. The dough is made of wheat starch that makes it translucent to steam cooking. Traditionally, the dough contains pork grease. What is stuffed in the ravioli is a mixture of shrimp, bamboo shoots and pork grease.
Réchauffer à la vapeur ou au micro-ondes et servir chaud avec la sauce de poisson préparée. À conserver à une température inférieure à -18°C jusqu'à la date indiquée sur l'emballage. Ne jamais recongeler un produit décongelé.
Crevettes (crustacé) (30%), poisson pangasius (12%), eau, farine de riz gluant, farine de riz, farine de tapioca, patate blanche, chou blanc, carotte, échalotte, ail, ciboulette, huile sésame, épices, huile de canola. Allergènes: crustacé, poisson, graines de sésame.
ÉNERGIE 177 kcal
MATIÈRES GRASSES 2,43 g
DONT ACIDES GRAS SATURÉS 0,4 g
GLUCIDES 29,1 g
DONT SUCRES 1,97 g
PROTÉINES 9,79 g
SEL 0,25g
Raviolis shrimp pto 150gr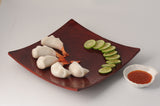 Avis à propos du produit
Voir l'attestation
Je ne les pas encore goûtés
Souvent consulté avec Raviolis shrimp pto 150gr
Product title
Vendor
€19,99 EUR | €24,99 EUR
Product title
Vendor
€19,99 EUR | €24,99 EUR
Product title
Vendor
€19,99 EUR | €24,99 EUR
Product title
Vendor
€19,99 EUR | €24,99 EUR