These shrimp ravioli are a basic ingredient in the recipe of a soup that is called Chinese ravioli soup or in Vietnamese the Won Ton.
En soupe : faire bouillir de l'eau jusqu'à ébullition puis incorporer les raviolis et ajouter les sachets d'assaisonnement. À conserver à une température inférieure à -18°C jusqu'à la date indiquée sur l'emballage.
Ne jamais recongeler un produit décongelé.
À la friture : frire à l'huile à 170°.
Farine de blé
Crevette(Crustacé) 20.17%
Pomme de terre
Eau
Amidon de tapioca
Carotte
Oreille de Judas
Huile de soja raffinée
Huile de sésame
Sucre
Sel
Ail
Extrait de levure
Poivre noir . Allergènes: céréale contenant du gluten, soja, crustacé, graines de sésame.
ÉNERGIE 150 kcal
MATIÈRES GRASSES 2,5 g
DONT ACIDES GRAS SATURÉS 0,8 g
GLUCIDES 22 g
DONT SUCRES 3,8 g
PROTÉINES 8,3 g
SEL 2,3 g
Ravioli with shrimp soup 200gr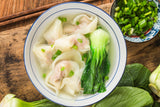 Avis à propos du produit
Voir l'attestation
Je les aime bien Parfait pour une petite soupe le soir

Très bien. Tout est parfait
Souvent consulté avec Ravioli with shrimp soup 200gr
Product title
Vendor
€19,99 EUR | €24,99 EUR
Product title
Vendor
€19,99 EUR | €24,99 EUR
Product title
Vendor
€19,99 EUR | €24,99 EUR
Product title
Vendor
€19,99 EUR | €24,99 EUR