Coconut pearls are made of glutinous rice flour, stuffed with mung puree and rolled in grated coconut.
Sans décongeler le produit, réchauffer à la vapeur pendant 5 minutes.

À conserver à une température inférieure à -18°C jusqu'à la date indiquée sur l'emballage.
Ne jamais recongeler un produit décongelé.
coco râpé (35%), farine de riz gluant (30%), eau, sucre.

ÉNERGIE 294 kcal
MATIÈRES GRASSES 9,73 g
DONT ACIDES GRAS SATURÉS 6,25 g
GLUCIDES 47,34 g
DONT SUCRES 16,86 g
PROTÉINES 4,21 g
SEL 0,12g
Coco bead 500gr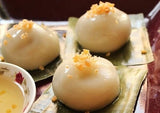 Avis à propos du produit
Voir l'attestation
Un dessert apprécié de tous

J'ai acheté pour la première fois et je recommande fortement! :)
Souvent consulté avec Coco bead 500gr
Product title
Vendor
€19,99 EUR | €24,99 EUR
Product title
Vendor
€19,99 EUR | €24,99 EUR
Product title
Vendor
€19,99 EUR | €24,99 EUR
Product title
Vendor
€19,99 EUR | €24,99 EUR