The pangas panties at the lemongrass is a traditional Vietnamese aperitif.
Laisser décongeler lentement au réfrigérateur puis passer à la poêle ou à la friture jusqu'à ce qu'ils soient dorés. À conserver à une température inférieure à -18°C jusqu'à la date indiquée sur l'emballage.
Ne jamais recongeler un produit décongelé.

filet pangasius, piment, citronnelles, épices. Allergène:Poisson
ÉNERGIE 151 kcal
MATIÈRES GRASSES 4,39 g
DONT ACIDES GRAS SATURÉS 1,8 g
GLUCIDES 15,9 g
DONT SUCRES 3,53 g
PROTÉINES 12 g
SEL 1,5 g
NEM FISH LAMPING 8PCS / 250GR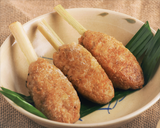 Avis à propos du produit
Voir l'attestation
Pâte de poisson trop fine du coup à la cuisson c'est un peu sec sinon c'est bien parfumé

Excellent comme au magasin
Souvent consulté avec NEM FISH LAMPING 8PCS / 250GR
Product title
Vendor
€19,99 EUR | €24,99 EUR
Product title
Vendor
€19,99 EUR | €24,99 EUR
Product title
Vendor
€19,99 EUR | €24,99 EUR
Product title
Vendor
€19,99 EUR | €24,99 EUR