Imperials or Nems are small fried rollers based on galette or rice leaves stuffed with chopped pork, shrimp, crab, chicken or vegetarian with vegetables. It can be accompanied by leaves of salads and aromatic herbs, soaked in the sweet-sweet fish brine sauce. They can be tasted as input, in a flat of resistance with rice vermicelli or in accompaniment trim as in the bo bun.
Sans décongeler les nem, frire à l'huile à 170° jusqu'à ce qu'ils soient dorés et servir chaud avec la sauce de poisson préparée.
À conserver à une température inférieure à -18°C jusqu'à la date indiquée sur l'emballage.
Ne jamais recongeler un produit décongelé.

crevettes (31,5%), galette de tapioca (25%), patate blanche, taro, carotte, vermicelle de haricot mungo, oignon, échalottes, ail, épices, huile de canola. Allergène: crustacé.

ÉNERGIE 186 kcal
MATIÈRES GRASSES 7,41 g
DONT ACIDES GRAS SATURÉS 1,08 g
GLUCIDES 22,02 g
DONT SUCRES 2,56 g
PROTÉINES 7,16 g
SEL 0,67g
Nem shrimp with tail / chả giò tôm 24pcs / 500gr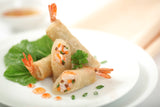 Avis à propos du produit
Voir l'attestation
Souvent consulté avec Nem shrimp with tail / chả giò tôm 24pcs / 500gr
Product title
Vendor
€19,99 EUR | €24,99 EUR
Product title
Vendor
€19,99 EUR | €24,99 EUR
Product title
Vendor
€19,99 EUR | €24,99 EUR
Product title
Vendor
€19,99 EUR | €24,99 EUR