The mini shrimp pancakes are small flat and thick rice pellets, embellished with shrimp and dotted with oil chives.
Laisser décongeler lentement au réfrigérateur. Disposer les crêpes sur une poêle avec un peu d'huile pendant 4 minutes puis mettre un couvercle sur la poêle pour des crêpes avec une texture plus moelleuse ; ou chauffer au micro-onde pendant 60 à 90 secondes. Servir chaud avec la sauce de poisson préparée. À conserver à une température inférieure à -18°C jusqu'à la date indiquée sur l'emballage. Ne jamais recongeler un produit décongelé.
Lait de coco, farine de riz (35%), crevettes (crustacé) (12.3%), ciboulettes, ail, épices, huile de canola. Allergènes: crustacés
"ÉNERGIE 235 kcal
MATIÈRES GRASSES 14,29 g
DONT ACIDES GRAS SATURÉS 8,18 g
GLUCIDES 20,26 g
DONT SUCRES 1,62 g
PROTÉINES 5,02 g
SEL 0,58 g
"
Mini shrimp pancakes 300gr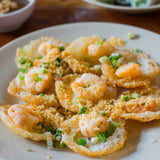 Avis à propos du produit
Voir l'attestation
Excellent comme au magasin
Souvent consulté avec Mini shrimp pancakes 300gr
Product title
Vendor
€19,99 EUR | €24,99 EUR
Product title
Vendor
€19,99 EUR | €24,99 EUR
Product title
Vendor
€19,99 EUR | €24,99 EUR
Product title
Vendor
€19,99 EUR | €24,99 EUR