The famous fluffy brioche of Shanghai in a delicious version with seafood

Sans décongeler, réchauffer à la vapeur pendant 8 minutes. À conserver à une température inférieure à -18°C jusqu'à la date indiquée sur l'emballage. Ne jamais recongeler un produit décongelé.
"Eau
Farine de blé
Huile de soja raffinée
Crevette(Crustacé)(11,08%)
Poisson (8,01%)
Farine tapioca
oignon blanc
carotte
Fécule de pomme de terre
Gélatine
Oignon de printemps
Sel
Sucre
Huile de sésame
Sauce soja(blé,graine de soja,sel,eau,sucre)
Extrait de levure
Blanc d'oeuf en poudre
Poivre noir. Allergènes: Oeuf, gluten, crustacés, soja, poisson, sésame"
"Énergie 198 kcal
Mat.grasses 7,94 g
Dont acides gras satures 2,91 g
Glucides 24 g
Dont sucres 2,7 g
Protéines 6,48 g
Sel 0,99 g
"
Mini Brioche Shanghai Sea Fruit 240gr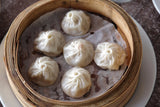 Avis à propos du produit
Voir l'attestation
Même avis que précédemment
Souvent consulté avec Mini Brioche Shanghai Sea Fruit 240gr
Product title
Vendor
€19,99 EUR | €24,99 EUR
Product title
Vendor
€19,99 EUR | €24,99 EUR
Product title
Vendor
€19,99 EUR | €24,99 EUR
Product title
Vendor
€19,99 EUR | €24,99 EUR