The cake thousand leaves with soy cream that can be found in some bakeries or Vietnamese grocery stores under the name of Banh da Lon. This green color cake generally is slightly sweet and has a soft and sticky texture.
Sans décongeler le produit, réchauffer à la vapeur pendant 10 minutes. À conserver à une température inférieure à -18°C jusqu'à la date indiquée sur l'emballage.
Ne jamais recongeler un produit décongelé.
lait de coco (30%), farine de tapioca (25%), sucre, haricot mungo, (15%), farine de riz, extrait de feuille de pandansius amaryllifolius et Peristrophe Roxburghiana.
ÉNERGIE 249 kcal
MATIÈRES GRASSES 6,66 g
DONT ACIDES GRAS SATURÉS 5,47 g
GLUCIDES 43,62 g
DONT SUCRES 21,94 g
PROTÉINES 2,93 g
SEL 0,06g
A thousand leaves soybean cream 400gr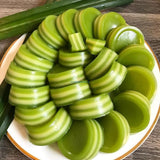 Avis à propos du produit
Voir l'attestation
C'est super bon. Ce n'est pas très sucré.
Souvent consulté avec A thousand leaves soybean cream 400gr
Product title
Vendor
€19,99 EUR | €24,99 EUR
Product title
Vendor
€19,99 EUR | €24,99 EUR
Product title
Vendor
€19,99 EUR | €24,99 EUR
Product title
Vendor
€19,99 EUR | €24,99 EUR