The imperial shrimp cake is a rice pancake stuffed with shrimp cotton in the manner of Hue. Called the Banh Nam in Vietnam, he is part of the traditional culinary triptych of Hue: Bánh Bèo, Bánh Bột Lọc and Bánh Nậm. This dish is often lukewarm.

Laisser décongeler lentement au réfrigérateur. Réchauffer à la vapeur pendant 4 à 5 minutes ou au micro-onde pendant 3 minutes. Servir avec la sauce de poisson préparée. À conserver à une température inférieure à -18°C jusqu'à la date indiquée sur l'emballage. Ne jamais recongeler un produit décongelé.
Crevettes (crustacé) (23%), farine de riz, eau, ciboulette, échalotte, ail, huile de canola, épices. Allergènes: crustacés
"ÉNERGIE 118 kcal
MATIÈRES GRASSES 2,74 g
DONT ACIDES GRAS SATURÉS 0,38 g
GLUCIDES 17,13 g
DONT SUCRES 0,93 g
PROTÉINES 5,55 g
SEL 0,62 g
"
Imperial Cakes Shrimp "Huê" 250gr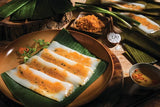 Avis à propos du produit
Voir l'attestation
Excellent comme au magasin
Souvent consulté avec Imperial Cakes Shrimp "Huê" 250gr
Product title
Vendor
€19,99 EUR | €24,99 EUR
Product title
Vendor
€19,99 EUR | €24,99 EUR
Product title
Vendor
€19,99 EUR | €24,99 EUR
Product title
Vendor
€19,99 EUR | €24,99 EUR