Shrimp bean cakes is a Vietnamese sticky rice dumpling that is consumed as a snack. The dumplings are stuffed with chopped shrimp seasoned and motto puree mung. They are often overcome with green onion oil, fried onions, shrimp flakes accompanied by a pungent sauce with fish sauce.
Laisser décongeler lentement au réfrigérateur. Réchauffer à la vapeur pendant 5 minutes ou au micro-onde pendant 40 à 60 secondes. À conserver à une température inférieure à -18°C jusqu'à la date indiquée sur l'emballage. Ne jamais recongeler un produit décongelé.
farine de riz gluant (30%), eau, haricot mungo, crevettes (crustacé)(11%), patate blanche, échalotte, ciboulette, ail, sucre, sel, poivre, huile de canola. Allergènes: crustacé
ÉNERGIE 220 kcal
MATIÈRES GRASSES 6,46 g
DONT ACIDES GRAS SATURÉS 1,47 g
GLUCIDES 34,67 g
DONT SUCRES 1,3 g
PROTÉINES 5,89 g
SEL 0,62 g

300gr shrimp bean cakes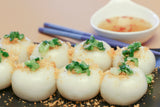 Avis à propos du produit
Voir l'attestation
Bons produits. Nouveau goût

Très bons petits pains vapeur aux haricots+crevettes, épicés comme il faut.

Première commande, service commercial au top, livré le lendemain, pas de mauvaises surprises, nous recommandons et recommanderons régulièrement car produits de qualité. Merci..
Souvent consulté avec 300gr shrimp bean cakes
Product title
Vendor
€19,99 EUR | €24,99 EUR
Product title
Vendor
€19,99 EUR | €24,99 EUR
Product title
Vendor
€19,99 EUR | €24,99 EUR
Product title
Vendor
€19,99 EUR | €24,99 EUR