Vietnamese traditional cake made with rice and steamed with coconut. These cakes are recognizable by their soft, mellow and spongy texture.
Laisser décongeler le produit lentement au réfrigérateur puis réchauffer au micro-ondes à basse température.

À conserver à une température inférieure à -18°C jusqu'à la date indiquée sur l'emballage.
Ne jamais recongeler un produit décongelé.
farine de riz, lait de coco (25%), sucre, sésame, couleur végétale, eau. Allergène: graines de sésame.
ÉNERGIE 223 kcal
MATIÈRES GRASSES 6,75 g
DONT ACIDES GRAS SATURÉS 5,526 g
GLUCIDES 39,4 g
DONT SUCRES 18 g
PROTÉINES 1,21 g
SEL 0.33 g
Coco 300gr milk rice cakes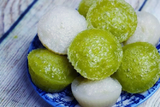 Avis à propos du produit
Voir l'attestation
Bon mais un peu trop sucre
Souvent consulté avec Coco 300gr milk rice cakes
Product title
Vendor
€19,99 EUR | €24,99 EUR
Product title
Vendor
€19,99 EUR | €24,99 EUR
Product title
Vendor
€19,99 EUR | €24,99 EUR
Product title
Vendor
€19,99 EUR | €24,99 EUR