This cupcake cake is simply a stuffed flour paste of chives but what people love it is its crisp crust at the exit of the pan.
Réchauffer à la vapeur pendant 5 à 7 minutes ou faire dorer à la poêle à feu douc.

pâte (farine de blé, eau, huile de soja, sel ; 70%), sucre, sel, poivre, ciboulette, poireau, huile de soja, ciboule. Allergènes: céréale contenant du gluten, soja.
ÉNERGIE 169 kcal
MATIÈRES GRASSES 6,49 g
DONT ACIDES GRAS SATURÉS 2,9 g
GLUCIDES 26 g
DONT SUCRES 1,2 g
PROTÉINES 1,19 g
SEL 0,74 g
Criboulette cakes / bánh Nhân Hẹ 320gr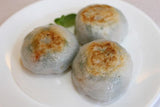 Avis à propos du produit
Voir l'attestation
Il y a trop de farine et de tapioca et pas assez de riz dans la pâte, sinon la farce de ciboulette est bonne, c'est quand leme bon
Souvent consulté avec Criboulette cakes / bánh Nhân Hẹ 320gr
Product title
Vendor
€19,99 EUR | €24,99 EUR
Product title
Vendor
€19,99 EUR | €24,99 EUR
Product title
Vendor
€19,99 EUR | €24,99 EUR
Product title
Vendor
€19,99 EUR | €24,99 EUR