The bean rice cake named the Banh Tet in Vietnamese is made of glutinous rice, red beans mainly, all wrapped in a banana leaf and attached by a bamboo rope.
Laisser décongeler le produit lentement au réfrigérateur puis réchauffer au micro-ondes à basse température.

À conserver à une température inférieure à -18°C jusqu'à la date indiquée sur l'emballage.
Ne jamais recongeler un produit décongelé.
riz gluant, coco, haricots.
ÉNERGIE 188 kcal
MATIÈRES GRASSES 2.58 g
DONT ACIDES GRAS SATURÉS 2.45 g
GLUCIDES 35,7 g
DONT SUCRES 1.16 g
PROTÉINES 5,60 g
SEL 0.81 g
Gateau Rice Haricot 500gr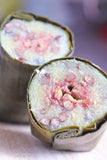 Avis à propos du produit
Voir l'attestation
Je ne les ai pad encote goûtés Donnerai mon avis ultérieurement
Souvent consulté avec Gateau Rice Haricot 500gr
Product title
Vendor
€19,99 EUR | €24,99 EUR
Product title
Vendor
€19,99 EUR | €24,99 EUR
Product title
Vendor
€19,99 EUR | €24,99 EUR
Product title
Vendor
€19,99 EUR | €24,99 EUR