Croissants with shrimp are small croissants fried shrimp that are so a salt pastry. They are also called "Patê Sô" or "Banh Xep" in Vietnam.
Faire frire dans de l'huile à 170° pendant 2 minutes. À conserver à une température inférieure à -18°C jusqu'à la date indiquée sur l'emballage. Ne jamais recongeler un produit décongelé.
Farine de blé (40%), eau, crevette (crustacé) (28%), patate blanche, taro, oignon, échalotte, ail, champignon noir, huile de canola, huile sésame, shortening, épices Allergènes: céréale contenant du gluten, crustacé, graines de sésame.
ÉNERGIE 235 kcal
MATIÈRES GRASSES 9,68 g
DONT ACIDES GRAS SATURÉS 3,25 g
GLUCIDES 29,64 g
DONT SUCRES 3,36 g
PROTÉINES 7,46 g
SEL 0,71 g

Crescent with shrimp 300gr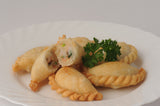 Avis à propos du produit
Voir l'attestation
au congélateur ! bel aspect.
Souvent consulté avec Crescent with shrimp 300gr
Product title
Vendor
€19,99 EUR | €24,99 EUR
Product title
Vendor
€19,99 EUR | €24,99 EUR
Product title
Vendor
€19,99 EUR | €24,99 EUR
Product title
Vendor
€19,99 EUR | €24,99 EUR