Tempoura shrimp are simply shrimp tails coated with Tempera pulp. They are already ready to be plunged into frying.
Sans décongeler le produit, faire frire dans l'huile entre 160° et 170° pendant 7 minutes. À conserver à une température inférieure à -18°C jusqu'à la date indiquée sur l'emballage. Ne jamais recongeler un produit décongelé.
Crevette 50%
Amidon modifié
Sel
Farine de blé
Graisse végétale
Émulsifiant
Colorant alimentaire(
Caroténoïde)"
Levure"
Eau
Huile de soja
E451, E452 Allergènes: crustacé, céréale contenant du gluten.
ÉNERGIE 222 kcal
MATIÈRES GRASSES 7,75 g
DONT ACIDES GRAS SATURÉS 1,3 g
GLUCIDES 29,7 g
DONT SUCRES 0,45 g
PROTÉINES 8,41 g
SEL 0,28 g

PTO Tempura Shrimp 13/15 265gr (5pcs)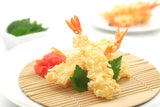 Avis à propos du produit
Voir l'attestation
Très bonnes et très belles à la présentation.

Très bonnes et croustillantes.

Je crois que c'est le tempura crevette le plus gros qu'on peut trouver en France, mieux que celles dans les restaurants, je recommande!
Souvent consulté avec PTO Tempura Shrimp 13/15 265gr (5pcs)
Product title
Vendor
€19,99 EUR | €24,99 EUR
Product title
Vendor
€19,99 EUR | €24,99 EUR
Product title
Vendor
€19,99 EUR | €24,99 EUR
Product title
Vendor
€19,99 EUR | €24,99 EUR