Angel's hair that is better known as Banh Hoi is a flat thin rice noodle dish. Its texture and taste quite similar to vermicelli, by distinction the banh hoi fresh is slim and sweet. It can be consumed accompanied by grilled pork but also with Chao Tom (mounted shrimp paste around a sugar cane stick), all with a spicy fish sauce.
Réchauffer à la vapeur pendant cinq (5) minutes et utiliser comme un produit frais.

eau, farine de riz (38%), ciboulette, huile de canola.

ÉNERGIE 144 kcal
MATIÈRES GRASSES 5,23 g
DONT ACIDES GRAS SATURÉS 0,71 g
GLUCIDES 21,69 g
DONT SUCRES 0,28 g
PROTÉINES 2,1 g
SEL 0,04g

Angel Hair / Bánh Hỏi 250gr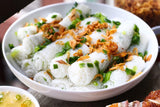 Avis à propos du produit
Voir l'attestation
Première commande, service commercial au top, livré le lendemain, pas de mauvaises surprises, nous recommandons et recommanderons régulièrement car produits de qualité. Merci..
Souvent consulté avec Angel Hair / Bánh Hỏi 250gr
Product title
Vendor
€19,99 EUR | €24,99 EUR
Product title
Vendor
€19,99 EUR | €24,99 EUR
Product title
Vendor
€19,99 EUR | €24,99 EUR
Product title
Vendor
€19,99 EUR | €24,99 EUR