The donut blown to the sesames of which we name Banh Tieu in Vietnamese is a donut. This donut is particular because the interior is hollow and with a pinch of seeds on the top.

Laisser décongeler le produit lentement au réfrigérateur puis réchauffer au micro-ondes à basse température.

À conserver à une température inférieure à -18°C jusqu'à la date indiquée sur l'emballage.
Ne jamais recongeler un produit décongelé.
farine de blé, levure, sucre, huile végétale, graines de sésame, eau. Allergènes: céréale contenant du gluten, graines de sésame.
ÉNERGIE 338 kcal
MATIÈRES GRASSES 9,40 g
DONT ACIDES GRAS SATURÉS 3.96 g
GLUCIDES 56,6 g
DONT SUCRES 21,8 g
PROTÉINES 6,74 g
SEL 0.29 g
Donut blows to the 200gr sesames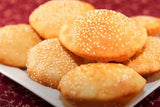 Avis à propos du produit
Voir l'attestation
Je connais déjà ce produit il est très bon

Excellents, comme au Vietnam
Souvent consulté avec Donut blows to the 200gr sesames
Product title
Vendor
€19,99 EUR | €24,99 EUR
Product title
Vendor
€19,99 EUR | €24,99 EUR
Product title
Vendor
€19,99 EUR | €24,99 EUR
Product title
Vendor
€19,99 EUR | €24,99 EUR