The shrimp donut Banh Cong is a popular salt cake in southern Vietnam. In his original recipe, he combines meat, green onions, shrimp with peas and sweet foam of the soy shell which makes this Western cake delicious.
Laisser décongeler lentement au réfrigérateur, puis faire frire à 165° pendant 3 minutes. Plat à servir chaud.
eau, farine de riz, crevettes (10%), farine de blé, taro, haricot mungo, cacahuètes, épices, huile de canola. Allergènes: crustacé, céréale contenant du gluten, arachide.
ÉNERGIE 344kcal
MATIÈRES GRASSES 20,71 g
DONT ACIDES GRAS SATURÉS 3,01 g
GLUCIDES 31,93 g
DONT SUCRES 0,35 g
PROTÉINES 7,35 g
SEL 0,25 g

Donut "Bánh Công" shrimp 500gr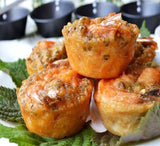 Avis à propos du produit
Voir l'attestation
frit chaud ou froid , très bon.
Souvent consulté avec Donut "Bánh Công" shrimp 500gr
Product title
Vendor
€19,99 EUR | €24,99 EUR
Product title
Vendor
€19,99 EUR | €24,99 EUR
Product title
Vendor
€19,99 EUR | €24,99 EUR
Product title
Vendor
€19,99 EUR | €24,99 EUR