Tilapia is the most consumed fish in the world! It is a freshwater fish with white and firm firm and almost no ridges. It is rich in vitamin B, vitamin D, selenium and phosphorus. It is a lean fish that nevertheless contains two fatty acids of the omega-3 family, eicosapentaneoic acid and docosahexaenoic acid.
Laisser décongeler lentement au réfrigérateur avant préparation. À conserver à une température inférieure à -18°C jusqu'à la date indiquée sur l'emballage. Ne jamais recongeler un produit décongelé.
Tilapia Mozambique. Allergènes: poisson
ÉNERGIE 120 kcal
MATIÈRES GRASSES 4,53 g
DONT ACIDES GRAS SATURÉS 1,5 g
GLUCIDES 0 g
DONT SUCRES 0 g
PROTÉINES 19,8 g
SEL 0 g

Tilapia Entire empty / cá joint phi 1kg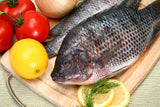 Avis à propos du produit
Voir l'attestation
Très bon. Propre. J'ai adoré.
Souvent consulté avec Tilapia Entire empty / cá joint phi 1kg
Product title
Vendor
€19,99 EUR | €24,99 EUR
Product title
Vendor
€19,99 EUR | €24,99 EUR
Product title
Vendor
€19,99 EUR | €24,99 EUR
Product title
Vendor
€19,99 EUR | €24,99 EUR