Anchovy belongs to a family of fish where many species are consumed by the human. It is one of the richest fish in omega 3, and also contains iron, a large amount of vitamins B3 and D.
Laisser décongeler lentement au réfrigérateur avant préparation. À conserver à une température inférieure à -18°C jusqu'à la date indiquée sur l'emballage. Ne jamais recongeler un produit décongelé.
Anchois. Allergènes: poisson
ÉNERGIE 73kcal
MATIÈRES GRASSES 2.3 g
DONT ACIDES GRAS SATURÉS 1.2 g
GLUCIDES 0 g
DONT SUCRES 0 g
PROTÉINES 16.3 g
SEL 0.1 g

Anchovies / cá cơm 250gr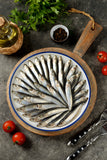 Avis à propos du produit
Voir l'attestation
Première commande, service commercial au top, livré le lendemain, pas de mauvaises surprises, nous recommandons et recommanderons régulièrement car produits de qualité. Merci..
Souvent consulté avec Anchovies / cá cơm 250gr
Product title
Vendor
€19,99 EUR | €24,99 EUR
Product title
Vendor
€19,99 EUR | €24,99 EUR
Product title
Vendor
€19,99 EUR | €24,99 EUR
Product title
Vendor
€19,99 EUR | €24,99 EUR