The Gyoza raviolis is a plaster from Japan. These are small ravioli stuffed with shrimp and chives. Generally accompany the soy sauce.
Faire dorer à la poêle à feu douce.


À conserver à une température inférieure à -18°C jusqu'à la date indiquée sur l'emballage.

Ne jamais recongeler un produit décongelé.
Add custom text to your tabs
Add custom text to your tabs
Raviolis Gyoza Shrimps and Ciboulette 10pcs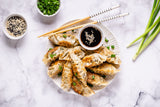 Avis à propos du produit
Voir l'attestation
Très bien tout est parfait
Souvent consulté avec Raviolis Gyoza Shrimps and Ciboulette 10pcs
Product title
Vendor
€19,99 EUR | €24,99 EUR
Product title
Vendor
€19,99 EUR | €24,99 EUR
Product title
Vendor
€19,99 EUR | €24,99 EUR
Product title
Vendor
€19,99 EUR | €24,99 EUR